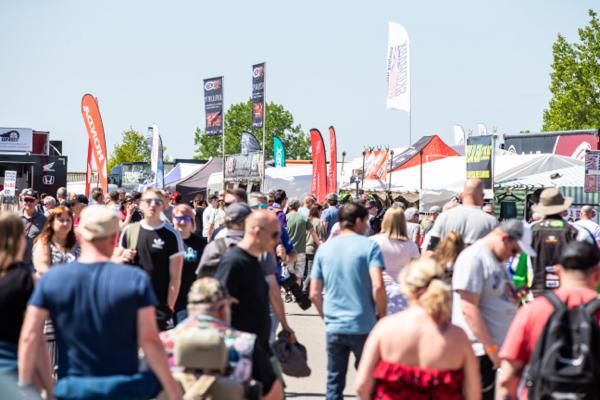 The Devitt MCN Festival of Motorcycling 2019, the annual motorcycle festival is returning to the East of England Arena and Events Centre [EEAEC], on May 18 - 19, 2019. The event is expected to draw crowds of tens of thousands to the central England venue, many of them camping on-site, for a weekend of test rides, oval racing, stunts, static displays and many other attractions.
The festival has been held at the East of England Arena & Events Centre since its launch in 2015 and is organised by Bauer Media Group, publishers of the long established Motorcycle News (MCN) weekly newspaper. The festival attracts motorcycle fans and enthusiasts from across the UK for an opportunity to view the manufacturer's latest models and, riding in small escorted groups, take them for test drives rides in the vicinity of the Arena.
Rob Aherne, managing director of motorcycling at Bauer Media Group, explained why the East of England Arena is home to the festival, saying "With its motorsport pedigree, oval racing track and colossal outdoor area for displays and camping, the East of England Arena and Events Centre enables us to exploit the full potential of the show. Test rides are an essential part of the event, especially for our manufacturer exhibitors, so the arena's internal roadways and multiple access gates are a huge advantage. East of England Arena has always been quick to accommodate our needs and gives us the freedom to include features and events that would be difficult to host elsewhere."
Jason Lunn, venue director at the East of England Arena and Events Centre welcomed the return of the Festival, saying, "This event is an awesome spectacle that really takes advantage of all the facilities and space we have to offer, including all our indoor venue facilities, the 2500 seater grandstand and oval track for the racing, and extensive camping areas."
"I am delighted to be able to announce that we now have a three year agreement in place to host the Devitt MCN Festival of Motorcycling for 2019, 2020 and 2021," added Lunn.

The festival will also include many other attractions and fun for motorcyclists including stunt shows, beginners' bike experiences, DirtQuake racing madness, an extensive retail area and a club zone. Plus six time British Superbike champ Shakey Byrne will be in attendance signing autographs and being interviewed on stage. Entrance is free for children (15yrs and under) making it a great family friendly event.