New vice-chair for AEV Marketing & Communications Working Group
12 Nov 2019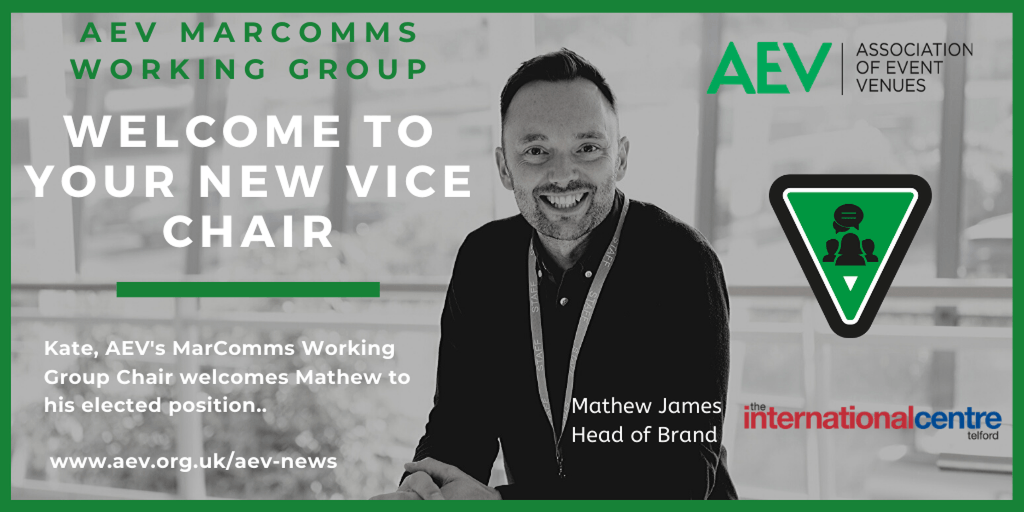 We're pleased to announce that Mathew James, head of brand, Telford International Centre, has been elected to the position of vice-chair of the AEV Marketing and Communications (Marcomms) Working Group.
The Working Group, which meets regularly at venues throughout the UK, strives to capture and define the many needs and requirements that AEV members have of their marketing and communications activity. With this focus, the Marcomms Working Group provides a forum in which issues, goals and successful practices can be shared, discussed and disseminated for the benefit of all association members.
Mathew was pleased to be elected to the role, saying, "The Marcomms working group brings together the best in event venue marketing from across the UK, and it is a real privilege to be elected as its new vice-chair. I am looking forward to learning lots, continuing to provide value and ambition to the group and supporting colleagues so that we all benefit from being part of a strong AEV."
Kate Simpson, marketing director, BDC and Marcomms Working Group Chair, welcomed James as vice-chair, saying, "I'm delighted that Mathew is taking on the role of vice-chair and look forward to working alongside him over the coming years. Mathew has already been instrumental in driving forward activities such as the benchmarking project we carried out, and I know that he will be a great support to both the group and the wider association, bringing a wealth of knowledge, creativity and experience to the table."