21 Nov 2016
DoubleTree by Hilton 1st Anniversary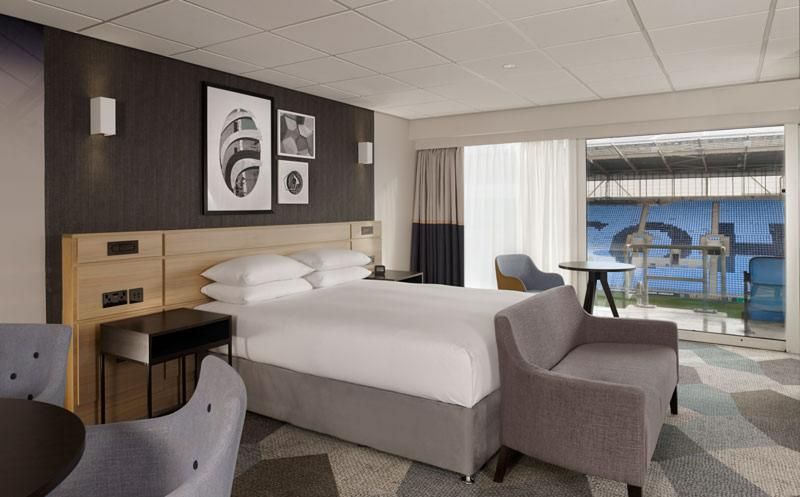 A major hotel and leisure investment by the Ricoh Arena has paid dividends in the last 12 months.
The DoubleTree by Hilton at the Ricoh Arena – a contemporary 121-bedroom hotel at the sport, business and entertainment venue – opened alongside the Mill Bar & Brasserie and Bakery a year ago today.
The completely refurbished hotel has resulted in a 60 per cent increase in income for the first quarter of 16/17.
Ricoh Arena managing director Andy Gibb said: "Our partnership with DoubleTree by Hilton is a perfect fit for both Wasps and the Ricoh Arena and was designed to bring an improved experience for hotel guests. The success of the new facilities has been reflected through our upturn in business.
"There has been an increase in the number of events we have hosted over the last 12 months and the hotel has benefited from that as well as an increase in transient guests driven by the DoubleTree by Hilton brand, as well as the hospitality operation.
"We held 777 events across all areas of the business in the last 12 months and the hotel and Mill Bar & Brasserie and Bakery are key to improving the experience of both event organisers and delegates.
"The Mill Bar & Brasserie, while being an integral part of the hotel experience, has also become a real focal point of the Ricoh Arena in the last 12 months, and not only when we are hosting major events. As part of the on-going investment, Faradays Restaurant, which currently operates as an a la carte restaurant within the hotel, is undergoing a rebrand.
"Visitors are staying longer as a result of the new facilities and they certainly arrive earlier for events. As well as improving trade it also makes for a really great atmosphere, especially when Wasps or Coventry City are at home.
"Obviously the success of the hotel reflects the overall health of business at the Ricoh Arena, and we have increased occupancy on days when we do not have major events, and we work very closely with the city and DoubleTree by Hilton to help that happen.
"Coventry and Warwickshire is thriving as a business area and being just off the M6 means that our DoubleTree by Hilton hotel is perfectly located to attract business custom. We also work very closely with Coventry City Council and other venues to represent the city at trade events.â€'
The Ricoh Arena recently announced a partnership with Ericsson which has seen a rebranding of its exhibition and sport space, and investment to make it the most connected venue in the UK.
Gibb added: "The new partnership with Ericsson and the increase in the number of events agreeing multi-year contracts, ensures that our DoubleTree by Hilton hotel and the Mill Bar & Brasserie and Bakery will continue to enjoy sustained growth.â€'