20 Apr 2018
Huge expansion almost complete at Eikon Exhibition Centre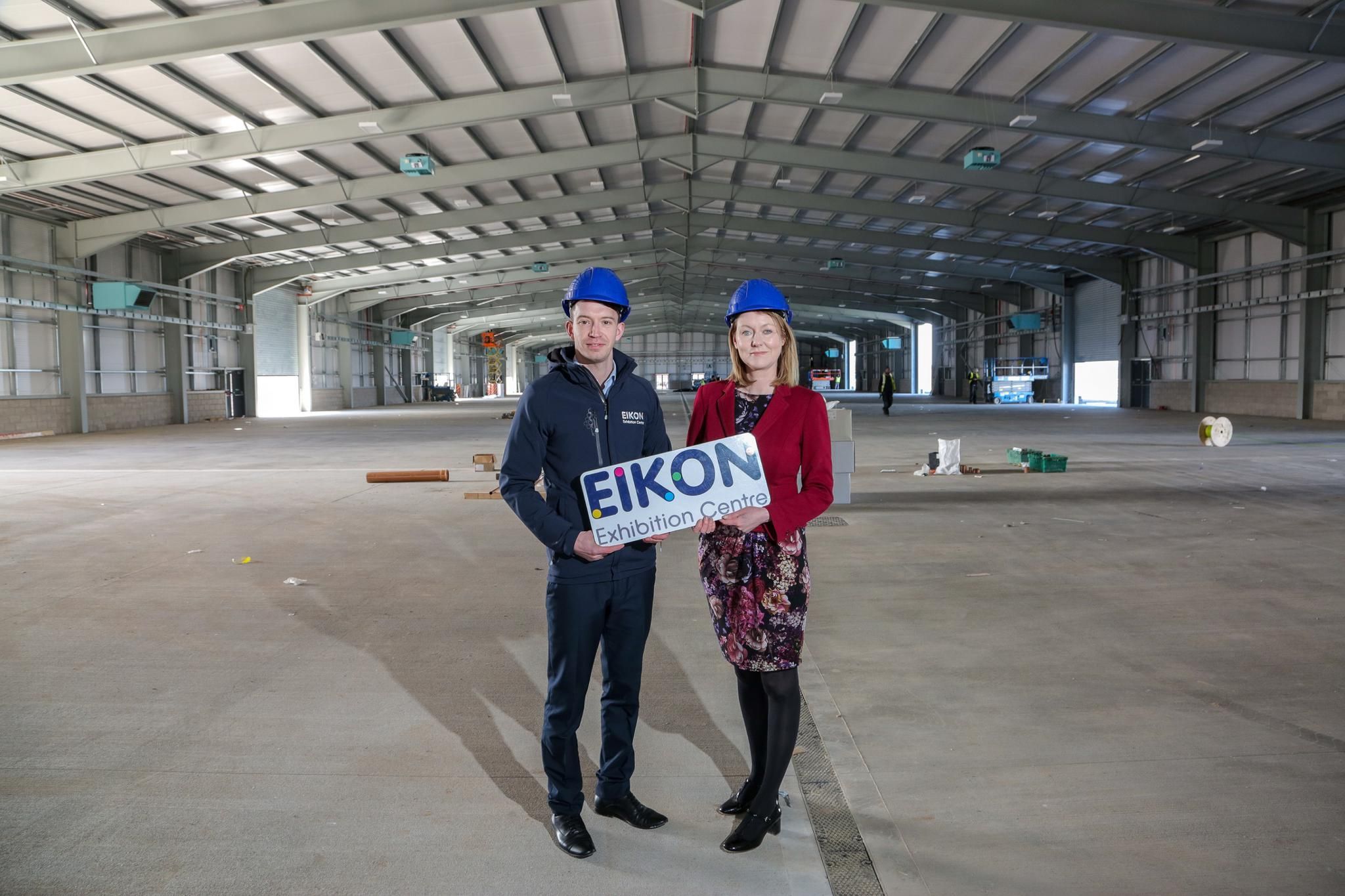 The Royal Ulster Agricultural Society has today unveiled details of their expansion of the Eikon Exhibition Centre. An additional multi-million pound event space, the Dr E F Logan Hall, will enhance the existing offering of the venue and will be available to hire from June this year.
 
These exciting developments will ensure that the Eikon Exhibition Centre remains the leading venue within Northern Ireland's events industry. The new purpose-built event space has 5,500sqm of clear span and dividable sections which can accommodate any kind of exhibition, conference, festival, gala dinner or launch event. High-spec installations ensure the Eikon Exhibition Centre will retain its position as the region's venue of choice.
 
Future features will also include a retractable covered walkway between both event spaces facilitating internal movement throughout the venue. This will allow the Eikon to host large scale events, providing event organisers with a completely versatile destination. To put this into context, the indoor space of the venue when linked will now be equivalent to three full size football pitches in excess of 10,500sqm.
 
Releasing the first photographs of the new hall, Theresa Morrissey, Commercial & Financial Director explained,
 
"The expansion of the Eikon Exhibition Centre is testament to the success of events that the venue has attracted since its launch in 2015. Many of the existing and new event organisers have been asking for supplementary event space to grow their portfolios and I'm delighted to say that we can now accommodate them at the venue.â€'
 
Eikon's location adjacent to Sprucefield on the edge of Lisburn City has been ideal for both public and trade events. With Belfast City Centre only 14 minutes away and Dublin only 90 minutes, attendances at events have exceeded original estimates and continue to grow at an accelerated pace. The venue is looking forward to welcoming its one millionth visitor in the coming months.
 
For event organisers, the Eikon Exhibition Centre offers a full range of services and facilities to help with the running of any exhibition or event. These include free car-parking for 4,000 vehicles, premium catering options and superfast broadband. Uniquely, the team behind the Eikon Exhibition Centre also run their own events which includes Balmoral Show, the largest agri-food event in Northern Ireland.
The development and expansion of the Eikon Exhibition Centre has been overseen by the award-winning team behind one of Belfast's most historical venues, the King's Hall Complex. The team have even more ambitious plans going forward.
 
A full range of events are already booked into the Eikon Exhibition Centre in the upcoming months. These include the 150th Balmoral Show, JDM Car Culture, MineVention, Belfast Championship Dog Show and N.I Leisure Show. New international events including the World Tattoo Festival and the European Indoor Archery Championships are also confirmed at the venue for 2019 and 2020.
 
Alan Crowe, newly appointed Chief Executive affirms the team's impressive plans,
 
"I would like to congratulate all our staff and our contracting team who have made this wonderful project come together. This will provide further progress in expanding and building our offering to the industry.â€'
 
The team at the Eikon Exhibition Centre will provide bespoke commercial proposals for clients, based upon the requirements for their events. To hire the venue, contact our award-winning team today on 028 90 686184 or email events@eikon.uk.com. To keep up to date with what's on visit our website www.eikonexhibitioncentre.co.uk