19 Oct 2018
NEC WILL HOST SIX SPORTS AT THE 2022 COMMONWEALTH GAMES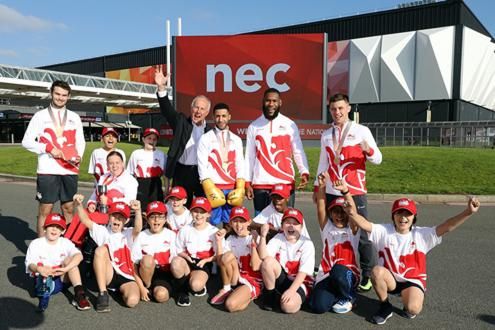 The Sport and Venue Programme for the Birmingham 2022 Commonwealth Games was confirmed and celebrated on Friday 19 October, as five Team England medallists joined Birmingham 2022 Chairman John Crabtree and pupils from Mapledene Primary School for a sporting showcase at the NEC – one of the key venue clusters for the Games, which take place from 27 July to 7 August 2022.
17 thrilling sports will take place over 11 days of action-packed competition, at venues across the host city and throughout the West Midlands and beyond. Over one million tickets will be available – and go on sale closer to the event. All of the venues are already open – with the exception of the new Aquatics Centre planned to be built in Sandwell – and well-established and experienced hosts of world-class sport. This was a key benefit of the original bid, supporting the Games Partners and Commonwealth Sports Movement's ambitions to increase the efficiency and affordability of hosting the Games.
John Crabtree, Chairman of the Birmingham Organising Committee of the 2022 Commonwealth Games said: "We were thrilled to welcome local schoolchildren and Team England stars to help celebrate the confirmed sport and venue programme for 2022, bringing a tiny flavour of the Games' sporting spirit to the NEC, one of our main venue clusters. It's another important milestone as progress continues towards Birmingham's largest-ever global sporting and cultural event in four years' time.
"With the revamp of Alexander Stadium, plans for a brand-new pool at Sandwell and a tried and tested team of sporting venues across the West Midlands – all our collaborative efforts are focused on ensuring the Birmingham 2022 Commonwealth Games will be a spectacular sporting showcase of the city and region.â€'
12 of the 17 sports take place in existing venues across the host city: Athletics and Para-Athletics will take place at a significantly-upgraded Alexander Stadium, located close to the Athletes' Village; Arena Birmingham will host Gymnastics; whilst the NEC will host six sports – Badminton, Boxing, Judo, Table Tennis, Weightlifting (and Para Powerlifting) and Wrestling. University of Birmingham's facilities will be home to Hockey and Squash; and Aston Villa's football ground Villa Park will be the stadium for the Rugby Sevens action. A city-centre location for the 3x3 Basketball and Wheelchair Basketball events is still being finalised.
Venues across the West Midlands will also help maximise and spread the involvement and benefits to regional communities close to Birmingham, with Swimming and Diving at a brand-new Aquatics Facility in Sandwell (6 miles from Birmingham City Centre); Triathlon taking place at Sutton Park in Sutton Coldfield (6 miles); Mountain Biking at Cannock Chase (16 miles); Netball at the Coventry Arena (17 miles) and Lawn Bowls in Royal Leamington Spa (21 miles). Finally, London's Velodrome at the Lee Valley VeloPark will host Track Cycling on the tenth anniversary of the London 2012 Olympic Games (102 miles).