20 Jul 2021
Olympia London welcomes back exhibitors and visitors to Aesthetic Medicine Live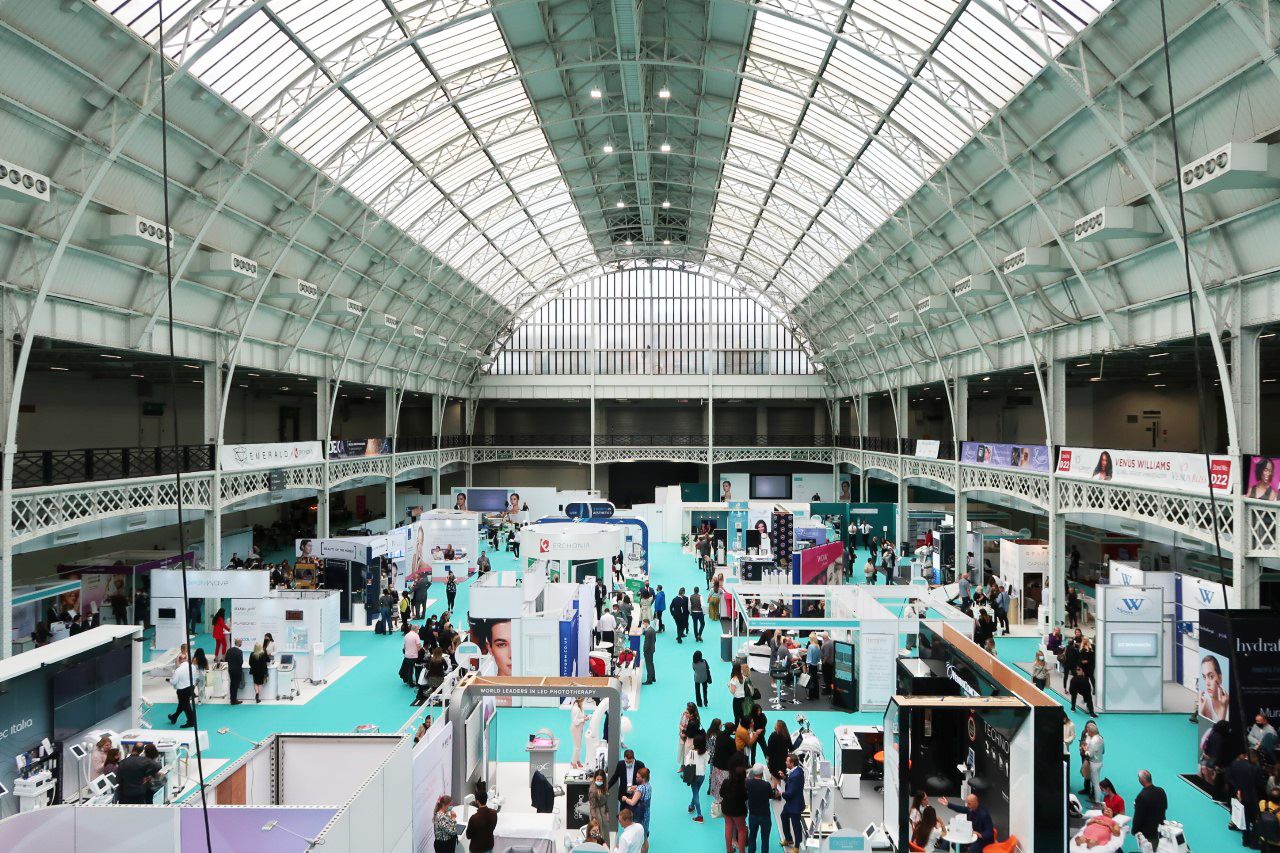 The event transformed Olympia National with soothing blue hues and an atmosphere of excitement and business conversation: "'It's great to be back' was a consensus shared by both visitors and brands, with face-to-face networking hugely missed by allâ€', said the organisers. Over 2,400 visitors attended over two days on on the 8th and 9th July, eager to do business, network or simply catch up with the irreplaceable in-person interaction that only a live event brings.
Following guidelines for Step 3 of the Government's roadmap, the event observed a capacity cap, introduced wider aisles on the show floor to allow for social distancing, temperature checks, and the use of face masks inside the venue.
Mark Moloney, Managing Director of organisers Professional Beauty Group, said: "Aesthetic Medicine Live was the first trade event in any major UK centre since the pandemic and the team and I are proud to play a small part in helping the profession to connect; providing so much live content and networking opportunities. Equally important, there was some solid business done on the stands. I'm very grateful to our exhibitors, visitors and speakers who kept faith. Olympia London management deserves praise for their steadfast support and encouragement, as do all the on-site teams - the marshalling team were particularly friendly. Thank you too to the caterers, security and of course the stand contractors who built the event so efficiently. All sides came together and got stuck in to deliver an event that has had so much positive feedback from the sector we serve.â€'
Gather & Gather, Olympia London's caterer, worked to keep the high standards it's known for as a Royal Warrant holder: "We have put together many Covid-safe catering delivery plans over the past 18 months and worked very closely with Olympia London to ensure we delivered a safe event. As the caterer, we ultimately wanted to make sure our customers felt comfortable with our service and offer, for example with our staff wearing masks and screens, individually served dishes, sanitising stations, plenty of seating; and give them the best possible experienceâ€', said Silvia Gurnari, Gather & Gather Catering Services Director. "You could feel the buzz! People interacting, doing business, eating and drinking, and just generally happy to be back doing what came to a complete halt in March 2020. Having a bit of normality in the workplace again felt amazingâ€'.
 
 
 
Providing a great guest experience in a safe environment was the priority for the Olympia London team. Venue Director, Gillian Kiamil, describes the sentiment: "Once we knew our amazing client was going to run under Step 3, we just got to work and, even after 18 months, 'normal' came quickly. The exhibition world is full of people who have known each other for 15 years but only get to meet three times a year inside the venue; yet it didn't feel like a day had passed since the hall was previously full.
It was an honour and a pleasure to run our first public event, and the overwhelmingly predominant feeling was pride that we helped stage a safe and successful event.â€'
Exhibitors were extremely positive about the visitors' response: "We have been pleasantly surprised how productive the first show coming out of Covid has beenâ€' John Culbert, CEO of exhibitor Cambridge Stratum, explained. He continued: â€'We were busy from virtually the minute the show opened and the people who attended had a serious interest in the products on show and many had imminent purchasing intentions. The initial impression is that this was the most productive show we have exhibited at.â€'
It was also good business for the show headline sponsor. Sam Keene, Marketing Manager of Cutera UK, said: "It's great to finally catch up and show people all of our products all in one place, meet the team and speaking in person allows us that personal aspect. I was nervous prior to the event but the first morning brought a huge flow of visitors for our live demonstration to find out about our new launch Secret PRO – there's nothing better than seeing people actively interested on the standâ€'.
The Olympia London team are now preparing for a busy autumn season with a mix of trade and consumer events lined up from September. View the venue's upcoming events: olympia.london/whatson