01 Aug 2022
Silverstone bridges the gap to connect trackside hotel with International Conference and Exhibition Centre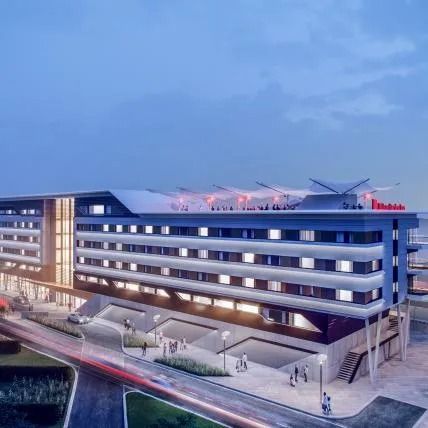 New bridge provides convenient covered walkway linking the hotel to the Silverstone International Conference and Exhibition Centre
A brand-new state of the art steel and glass bridge, featuring digital screens front and back, has been installed at the world-famous Silverstone Circuit making the Silverstone International Conference and Exhibition Centre more accessible for all who use the venue. Motorsport fans, corporate delegates and Formula 1 teams will all benefit from the bridge which is due to open this summer.
The impressive bridge which, at 80m in length and overlooking the Hamilton Straight start-finish line, provides a direct walkway between the Hilton Garden Inn, due to open later this year, and the Silverstone International Conference & Exhibition Centre, the world class conference and events facility that can accommodate up to 4,000 people.
Stuart Pringle, Managing Director of Silverstone commented "This has been an eagerly anticipated moment for all of us at Silverstone. The Wing, which is the largest conference and exhibition space between London and Birmingham, was designed to be linked to the outside of the circuit.  I am delighted that these original plans have come to fruition and look forward to walking over the Hamilton Straight from the Wing to the Hilton Garden Inn which will also house the new Silverstone Megastore.â€'
Hayley Smith, Head of Sales at Silverstone added "We're hugely excited that our conference and exhibition centre will be connected to the hotel. Many of our clients and delegates currently travel for overnight accommodation. Now they can simply use the bridge, the prospect of which has already seen us experience an increase in bookings.â€'Â
Anthony Duggan, General Manager, Hilton Garden Inn Silverstone, said: "We are thrilled to mark the installation of the bridge, a milestone moment that connects our hotel to the iconic Silverstone International Conference and Exhibition Centre, meaning that our guests are just moments and a short stroll away from the heart of the action. We cannot wait to open our doors to guests later this year.â€'
For more information and to find out about Silverstone Events and the Hilton Garden Inn please visit www.silverstone.co.uk.