10 May 2017
Sir Clive Woodward at National Sales Conference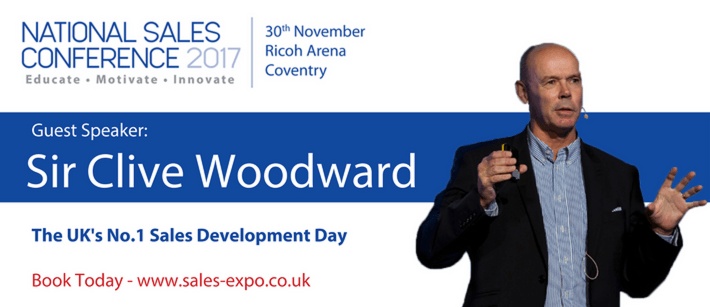 England rugby's world cup winning coach is making a special appearance at the UK's leading conference for sales leaders and sales professionals.
Sir Clive Woodward – the architect of England's greatest sporting achievement since 1966 - is making a keynote speech at the National Sales Conference on November 30 at the Ricoh Arena.
The iconic tactician has swapped the dugout for the conference room to deliver insight into the importance of a winning mentality and how marginal gains can have a huge impact on a team.
The National Sales Conference is attended by more than 600 of the UK's top sales performers from some of the world's leading brands.
This includes managing directors, sales leaders and managers from reputable companies such as Aston Martin, Samsung and Sky.
Steve Lindsey of Lincoln West, organiser of the National Sales Conference, said: "This conference is all about helping sales people to develop a winning mentality and maximise their performance, and you don't get much better than Sir Clive Woodward!
"England winning the world cup in 2003 was a great example of positive team work, and we think Clive's take on what happened behind the scenes throughout the tournament will inspire our visitors in their everyday working lives.
"As well as inspirational talks, we will also have a vast array of exhibitors to introduce delegates to innovative sales techniques, offer business advice and even drum up new business leads.
"More than a third of our visitors are personally/directly responsible for sales revenues of up to £50 million, so this is a fantastic place to network and share best practice with one another.
"With that in mind, we are also launching a directors' discussion forum this year so the UK's top sales leaders can share and discuss today's challenges, trends and the future of the sales.
"Over half of our tickets for the event have been sold with seven months still to go, so we'd urge people to act fast.â€'
Other keynote speakers on the day include body language expert Allan Pease, communications expert Andy Bounds and expert on the future world of work Dr Graeme Codrington.
Andy Gibb, managing director at the Ricoh Arena, added: "It's great to have the National Sales Conference returning again this year.
"Persuasion is a real art so; it'll be interesting to hear what some of the best people in the business have to say about selling.
"Our own sales and events team did a fantastic job securing 777 events at the Ricoh Arena last year, and we're hoping the National Sales Conference will help us to build upon that.â€'
For more information about the National Sales Conference visit www.sales-expo.co.uk
ENDS