14 Aug 2018
2018 eGuide Released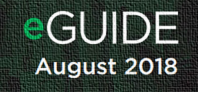 We have published the 2018 edition of the eGuide, the document that conveys the best advice, guidance and regulations pertaining to working at UK venues, with the ambition of creating a clearly defined national working environment for organisers, exhibitors and supplier companies.
This edition now includes navigational improvements and a completely new Medical Demonstrations and Treatments section, written and compiled over the last 12 months by the eGuide Working Group, (consisting of members from AEV, and with input from the Association of Event Organisers – AEO and the Event Supplier and Services Association -ESSA) and finalised by the AEV eGuide Sub-Committee. The latest edition also features amendments and updates to seven existing sections. 
Rachel Parker, director of the AEV, commented, "We're extremely grateful for the persistence and hard work of the eGuide Working Group to get this 2018 edition of the eGuide ready for publication."  
The contents of the eGuide are continuously reviewed by the AEV eGuide Working Group that meets twice yearly, ensuring it is relevant and pertinent to the industry.
"As the 'go-to' source of guidance and information on regulations within the participating venues, the eGuide is a vital resource thanks to the diligence and collaboration of the Working Group in keeping it both accurate and abreast of current developments," added Parker.
The 2018 edition of the eGuide is now available for download from the AEV website at http://www.aev.org.uk/eGuide, either in its full and complete form, or via a number of sub-sections for those only interested in a specific sector such as catering or stand building.