06 Mar 2019
Dual meeting summaries - Technology and MarComms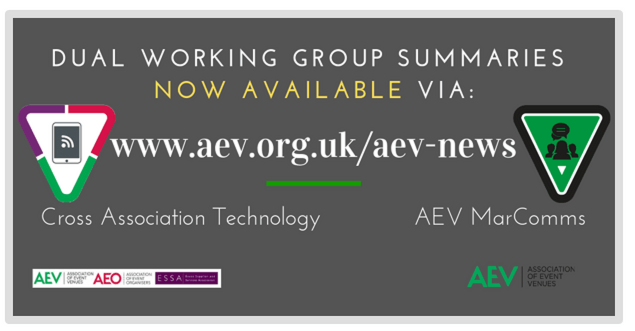 Cross Association Technology Working Group – 26th February 2019
The Cross Association group met during the opening day of International Confex.
Utilising this great opportunity for members to congregate the Technology group combined (for their first part) with AEO's Business Information Technology Group (BTIG) for a round-table-open-discussion regarding advancing the opportunities in working closer together - The collective agreed there is a lack of knowledge or understanding regarding the differing expectations Vs reality of venue Wi-Fi. The Cross Association group will work on creating various tools which will aid in this (re) education.
This combined group agreed to meet annually but continue dialogue through Associations with another joint meeting later in the year IF required given technology advances.
The Cross Association group split from the BTIG for the second part of their meeting, and was led by the group's chair, Amir Vered through International Confex to another part of Olympia London for a working lunch. The group also welcomed a representative from Rai Amsterdam who happened to be speaking at International Confex and was invited by Amir to witness our working group session. All welcome the Commercial Director of Exposure Analytics, Rob Murdoch who gave an insightful overview of the benefits of utilising tracking tech to gage the success of an event.
The meeting closed after the objectives for 2019 were discussed.
Thank you to all those that attended, Amir for chairing both sessions, hosting and organising refreshment, the BTIG, and Rob Murdoch for presenting.
For more information regarding this group please contact your Association.
AEV MarComms Working Group – 27th February
The sun continued to shine on the second and final day of International Confex. The AEV Marketing and Communications Working Group utilised the space in the sun drenched Pergola Olympia restaurant.
After a meet and greet where group colleagues had the opportunity to catch up over a coffee and pastry (kindly supplied by our hosts) the group settled down for an informative presentation from Silke Hoersch – Executive Director Marketing & Business Development from Ungerboeck EMEA. Together they explored current and new capabilities regarding software but also the ways in which we as businesses can improve our customer acquisition and relationship management.
Kate Simpson from Business Design Centre then led the group into breakout sessions where the group's objectives were explored - a strong collaborative direction was established.
Our next meeting is on the day after our Conference, July 5th at Manchester Central.
Jumping to September (26th); Bournemouth International Centre are kindly hosting and Elizabeth updated the group on what will promise to be an excellent afternoon and evening visit!  News on that to come.
Thank you to all who came, Kate for chairing, Silke who presented and the Pergola for hosting and providing refreshment.
If you are interested in joining any of our working groups please do contact either Dani or Alden.