25 Nov 2020
Emirates Old Trafford joins AEV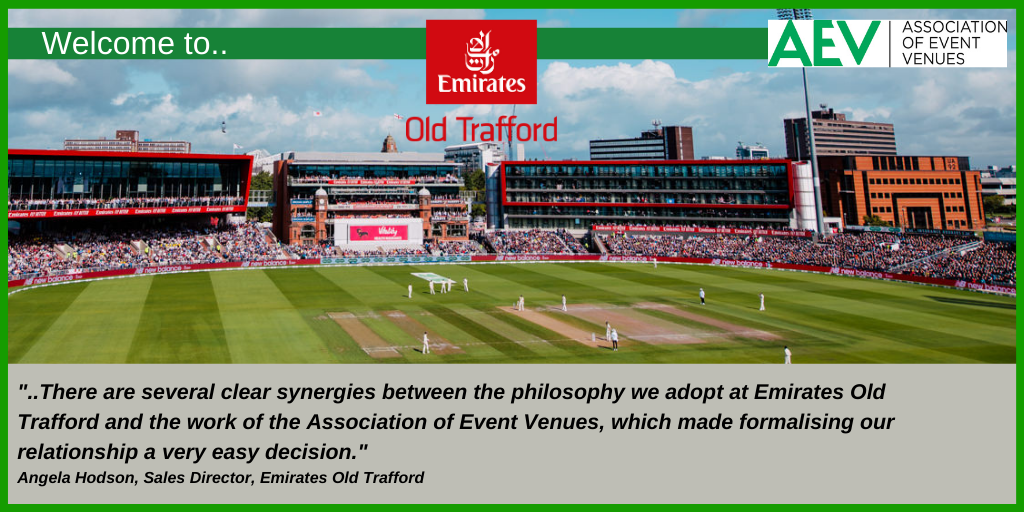 Emirates Old Trafford, the world-famous home ground of Lancashire Cricket Club and the second oldest Test Cricket venue in the world, has joined the Association of Event Venues (AEV) the association announced today.
In addition to its venerable cricketing history, Emirates Old Trafford is an award-winning, sustainable, and multi-purpose venue, catering for between 10 and 2,000 people across a multitude of events, from small meetings to large exhibitions. The venue complex also includes a four-star Hilton Garden Inn hotel with 150 bedrooms, many of them overlooking the ground itself.

In June 2020, Emirates Old Trafford was selected by the England and Wales Cricket Board (ECB) as one of two venues that would host a behind-closed-doors Test Match Series against the West Indies. Lancashire Cricket, Emirates Old Trafford developed the 'Safe in One Place' marketing and communications campaign with the goal of helping the wider UK events industry as it prepared to return nationally.
Rachel Parker, AEV director, welcomed the venue to the association saying, "Emirates Old Trafford has shown itself to be immensely resourceful and innovative during this pandemic, and has demonstrated great commitment to the whole event industry with its spirit of information sharing. It gives me great pleasure to welcome Emirates Old Trafford to the AEV, and I look forward to meeting the team through our working groups and meetings, as we build our way out of the Covid era."

Angela Hodson, Sales Director, Emirates Old Trafford, explained the venue's decision to join the AEV during the pandemic, saying, "There are several clear synergies between the philosophy we adopt at Emirates Old Trafford and the work of the Association of Event Venues, which made formalising our relationship a very easy decision."
Hodson continued, "We firmly believe in the development and promotion of best practice to enhance and grow the industry as a whole and, like the AEV, are fully committed to doing all we can to help lead the way back for venues across the country in these challenging conditions. This was highlighted by our recent Safe in One Place campaign sharing the knowledge and experience gained from hosting behind-closed-doors events during the pandemic."