21 Oct 2020
THE HAC, Home of the British Army's oldest regiment joins AEV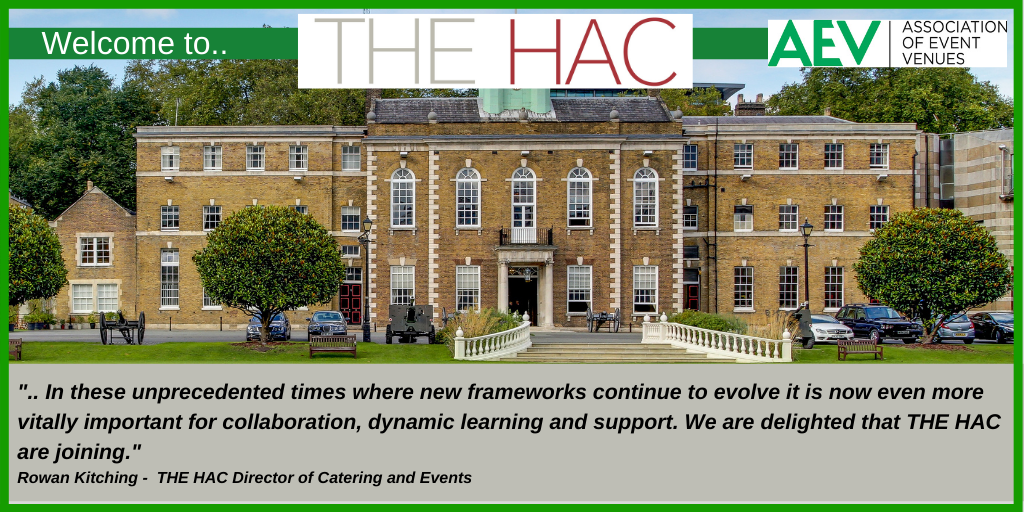 The Honourable Artillery Company (THE HAC), Britain's oldest army regiment, has joined the ranks of the Association of Event Venues (AEV) citing the importance of collaboration, and the wealth of knowledge embodied by the AEV working groups, as its primary reasons for seeking membership.
Rowan Kitching, THE HAC director of catering and events, explained why the regiment had chosen to join the AEV, saying, "I've always been a great supporter of the work of the AEV as a leading association for our industry. As we refined event operations at THE HAC I knew the venue team would benefit greatly from the networking opportunities and knowledge sharing that was available through AEV membership."
Kitching continued, "The AEV working groups deliver such a wealth of knowledge across a wide variety of topics, it assists venue teams to share best practice, standardise processes, and gain an invaluable support network. In these unprecedented times where new frameworks continue to evolve it is now even more vitally important for collaboration, dynamic learning and support. We are delighted that THE HAC are joining."
THE HAC offers a set of impeccably presented, historical event spaces including the famous oak-panelled Long Room in Armoury House, the spectacular 5 acre garden in the heart of the City, and the Prince Consort Rooms, a more contemporary event space with large open plan layout, level access, and a dedicated entrance.
Rachel Parker welcomed THE HAC to the association saying, "I'm very excited that the Honourable Artillery Company has chosen to join the AEV. Our success in supporting and enabling venues to adapt to rapidly changing circumstances is entirely due to our members and the breadth of expertise they share. Every new member brings fresh knowledge, and I look forward to THE HAC joining us in the committees and working groups, to bring their particular and unique experiences to the table."