26 Oct 2022
Hilton Birmingham Metropole joins AEV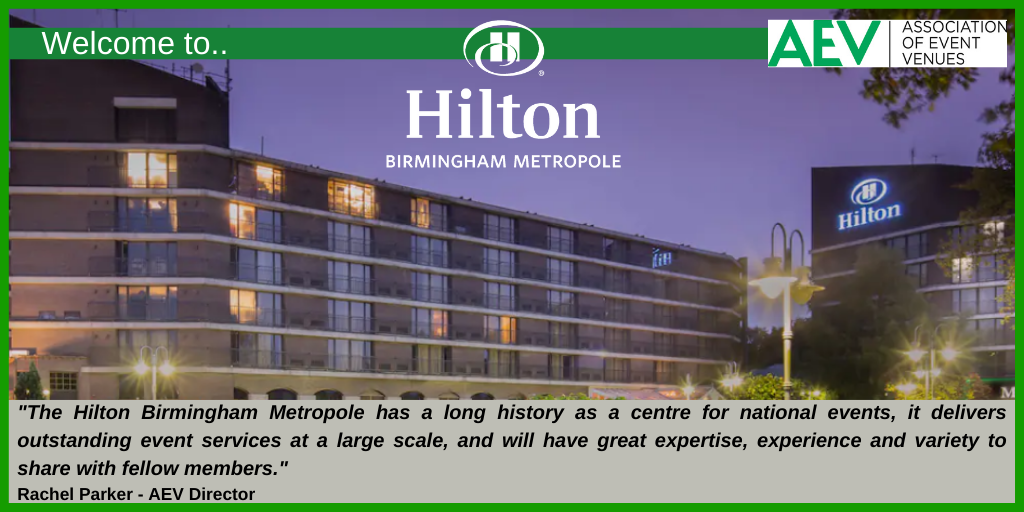 The largest hotel in England outside London, The Hilton Birmingham Metropole, has joined the Association of Event Venues (AEV), the association announced today.
The hotel, located on the N.E.C complex, first opened in 1976 and has undergone several major refurbishments since. Most recently, the hotel has developed new restaurant and bar concepts, a new executive lounge, a health club and an indoor swimming pool. The Hilton Birmingham Metropole hotel is a popular choice for conferences and events with nearly 60,000 sq. ft. of event space, and it attracts more than 1700 events every year.
Rachel Parker, AEV director, welcomed the hotel to the association, saying, "The Hilton Birmingham Metropole has a long history as a centre for national events, and I'm pleased to welcome this multi-purpose venue to our association. The Hilton Birmingham Metropole, is not just a place to sleep, it delivers outstanding event services at a large scale, and will have great expertise, experience and variety to share with fellow members."