17 Sep 2018
We meet the venue winners of the Exhibition News 30u30 class of 2018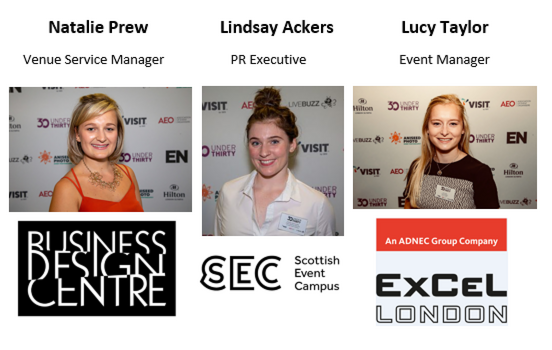 We celebrate the decision of the Exhibition News 30 under 30 judges, who picked three young venue professionals for their illustrious list, published in this month's edition of the magazine.
The accolades were awarded to Natalie Prew, Lindsay Ackers and Lucy Taylor of BDC, SEC and ExCeL London respectively. Only 3 venue organisations were represented on the list, and all were AEV member venues. The awards were made on August 15 at a special event at Hilton London Olympia.
Prew, Ackers and Taylor were all thrilled to have been selected for "going above and beyond in their roles, taking on high levels of responsibility, innovating, and serving as mentors and leaders to their peers" as the judging requirements demanded. All three are also active members of the association and contribute to AEV's working groups. Prew and Taylor are both members of the Event Managers Working Group, whilst Ackers sits on the Marcomms Working Group.
Asked about their roles in the respective working groups, Taylor commented,  "Collaboration and networking are vital in order to keep your views and opinions grounded in "event reality" and meeting as a group twice a year gives us ample time to progress ideas and share formalities of procedure in a non-commercial environment. It's quite reassuring to hear that people from other venues are experiencing many of the same challenges that we are currently facing."
Prew added, "I also really like how attending the working groups enables us to visit other venues and celebrate the variety of event spaces, within the Association. Since being on the working groups, I have been to Manchester Central, The SEC, The NEC, Excel and Olympia and soon we will be going to Farnborough International. I find it interesting to see how other venues are utilising their space to keep current within this thriving industry."
On the Marcomms Working Group, Ackers added, "the Working Group has definitely allowed me to reach out beyond my immediate colleagues, giving me the ability to explore, share ideas, gain insights and solid learning that I may not have been exposed to pre-AEV membership. Regardless of geography I feel connected to a bigger event network."
Rachel Parker, AEV director, was delighted at the news, saying, "It's important for the industry to recognise young talent and celebrate it with accolades like the Exhibition News 30 under 30. As an association, and in common with ESSA and AEO, we are striving to attract more young people to the industry, and recognition of their talents is an important part of this."
Read their full interviews with AEV project manger, Alden Arnold here