28 Mar 2019
Report: XAWG Sustainability Workshop 20.03.19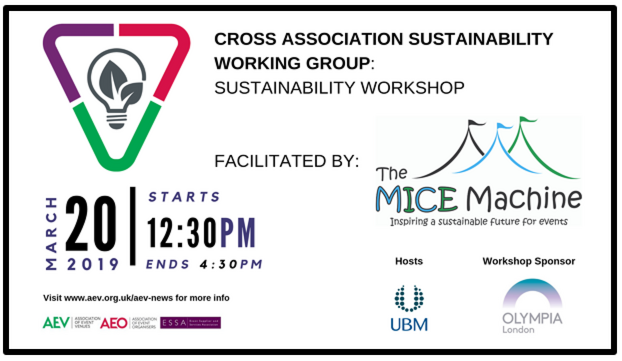 18 individuals from across 13 companies gathered at UBM/Informa's spectacular central London offices for an afternoon of collaborative industry sustainability thinking.
Olympia London kindly sponsored a workshop facilitated by the MICE Machine.
The MICE Machine exists to encourage and support greater sustainability in the meetings, incentives, conference and exhibitions (or events) industry. They developed and launched Olympia London's reinvigorated sustainability programme – "The Grand Plan". Champions from each of the Venue's departments agreed objectives and a strategy to achieve. Over 130 staff and service partners have agreed to contribute to the success of the plan.
With steer from Siân Richards, Business Services & Sustainability Manager Olympia London and wanting the same successes the group chair and vice along with AEV and MICE planned a longer afternoon session.
The 19th floor of UBM/Informa's offices provided the perfect outlook for inspiration. A tasty buffet lunch was organised by the groups vice and host – Lucille which gave a chance for the group to gather and catch up.
Commencing at 12:30pm Ruth and Chris introduced themselves and MICE Machine's purpose, their work with Olympia London and a couple of videos that all helped to set the scene.
Throughout the afternoon the group explored their collective needs and then as Association islands. 4 hours later these were then all pulled together into key focus areas and aims for the group with the ultimate aim to create commitment to obtain long term success.
Given the enthused attendees a follow up session is being explored before our next working group meeting on the 16th October.
If you are an AEV/AEO/ESSA member and would like to be involved please contact your Association.