30 Nov 2020
WEBINAR: The Resilient Mindset – How to Lead & Live During Turbulent Times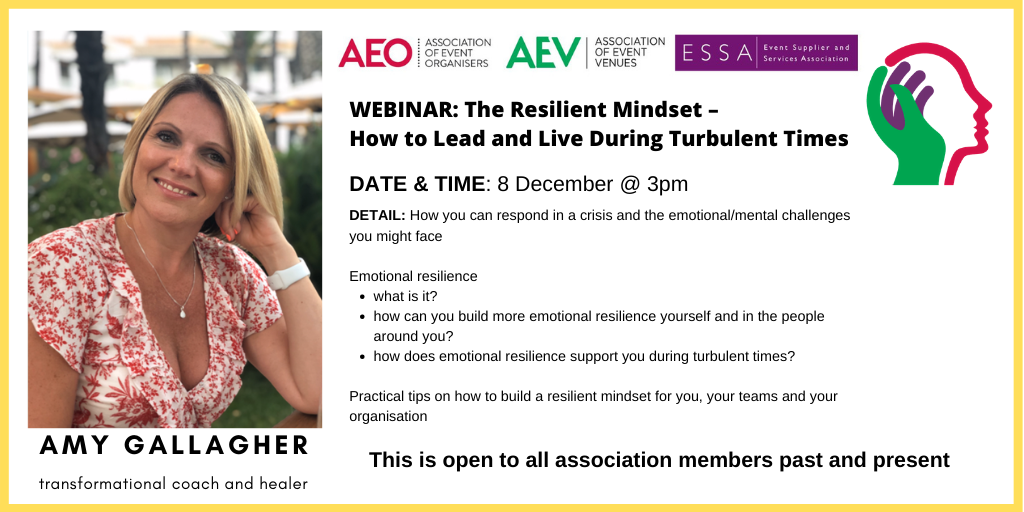 After the challenging year that we have faced as an industry, The teams at AEO, AEV and ESSA wanted to reach out to members - new and old - who may have been affected by the pandemic.
Who: Amy Gallagher – Amy Gallagher Coaching Ltd. Read Amy's bio here
What: The Resilient Mindset – How to Lead and Live During Turbulent Times 
When: 8TH December, 3pm 

In this this webinar the audience will hear from established transformational coach Amy Gallagher and will look at: 

• How you can respond in a crisis, such as a pandemic, and the emotional/mental challenges you might face. 

• Emotional resilience: 
- What is it? 
- How can you build more emotional resilience yourself and in the people around you? 
- How does emotional resilience support you during turbulent times? 
• Practical tips on how to build a resilient mindset for you, your teams and your organisation. 

We want you all to know that you are not forgotten and most of all that it's ok to not be ok. Amy will give you the tools you need to recognise this.

This is open to all association members past and present, especially to those that may have lost their roles as a result of the pandemic. 

To register click here