10 Jan 2019
We welcome a new chair & vice chair to the Catering Working Group.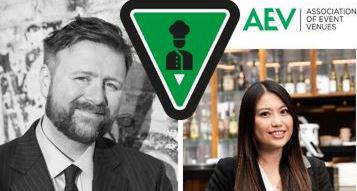 Jamie Anderson, venue director, SEC Food and Amy Chong, venue retail manager, ExCeL London have been appointed as the new Chair and Vice-chair, respectively, of the AEV Catering Working Group.

Anderson said, "I am very pleased to be chairing the group in such esteemed company, there's a real opportunity for discussing best practice and collaborating on the challenges and innovations arising in the field of event catering. As a working group, we are all indebted to Phil Wetz for his steer and expertise and I would like to extend my thanks to him for his long service as Chair."

Chong also welcomed the opportunity, saying, "I am delighted to be chosen as the Vice-chair of the AEV Catering WG. As great food and beverage is such an important part of the ExCeL proposition, it is fantastic to be able to collaborate with all the AEV member venues on topics that truly matters to the industry. I am looking forward to supporting Jamie in his role as Chair, and continuing the excellent work done by Phil Wetz."

Rachel Parker, AEV director, greeted the appointments enthusiastically saying, "I'm excited to welcome Jamie and Amy to their respective roles, and I'd also like to thank Phil for his unstinting work as the outgoing Chair."

The AEV Catering Working Group meets to discuss the ever-changing needs and provision of catering and other related topics. The group is also responsible for monitoring legislation and recommending changes and additions to the catering section of the eGuide.